Ampeg Lane Lots, Olney MD 20832
Click on each picture for a larger view of the 4 Lots!

Welcome to:

3204 Ampeg Lane, Olney MD 20832

Four (4) adjacent 2.25 acre lots situated at the back of a cul-de-sac/ located between two sought after developments off Old Baltimore Road.

Please call Ed Primozic at 301-503-6886 with any questions or for more information.

The Lots: Parcel 364, Parcel 365 (3204 Ampeg Lane), Parcel 286, & Parcel 340


Hawthorne Base House Price: ..$484,397

Site Costs: $246,280 | Lot $375,000 | Total Listing $1,105,677

All four lots have been SOLD

Additional disclosures below

---

---

Regulations, Easements and Assessments
(REA) Disclosure and Addendum

Addendum
(click above to open and view document)

(Click on each doc below)

---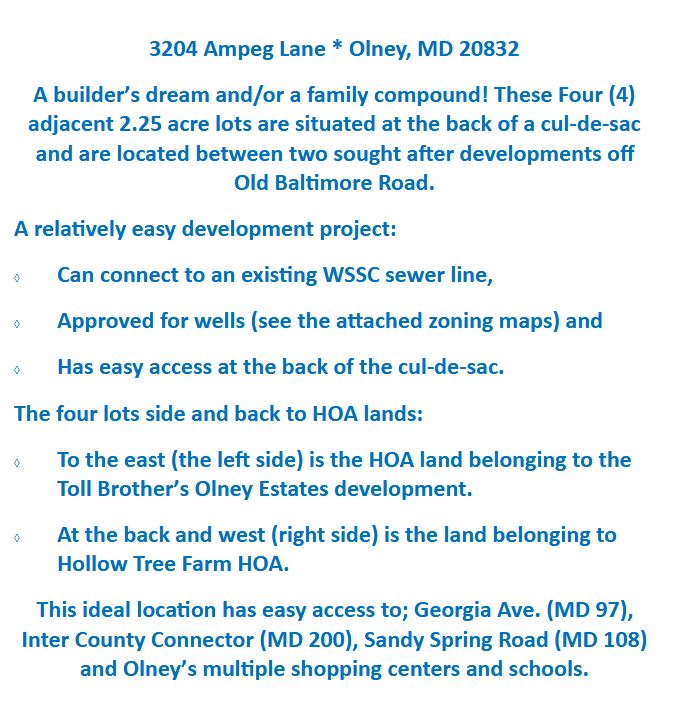 ---
Bring your own plans, work with Timberlake to design your own custom plan such as the featured picture or choose one of Timberlake Homes exciting floorplans such as the Hawthorne below. Either way, Timberlake Homes Will Walk You Through the Entire Home-building Process!
Here's what luxury looks like! This floorplan is the perfect multi-gen set-up as it can be designed to accommodate at least two adult generations living within one home, but in separate, defined spaces. This plan features a three-car garage which can be modified to provide a main level multi-generation space with options for office/hobby, bedroom or bed/studio space. A beautifully detailed. Every bedroom is a suite with the master suite offering a luxurious walk-in shower, free-standing soaking tub, double vanities, and extremely generous closet space. This standard 4-bedroom home can grow to 6 bedrooms. Add a loft, elevator, game room, recreation room, and exercise/theater space in the lower level to complement your lifestyle needs. The Hawthorne is one possibility, though many other elevation styles and/or models are available as well. The estimated price includes the lot, estimated on lot finishes/site work/permits, and the Hawthorne base price. The Lot also listed separately under MLS#: MDMC2043196 for $350,000.
A builder's dream and/or a family compound! These Four (4) adjacent 2.25 acre lots are situated at the back of a cul-de-sac and are located between two sought after developments off Old Baltimore Road. A relatively easy development project: can connect to an existing WSSC sewer line, approved for wells (see the attached zoning maps) and has easy access at the back of the cul-de-sac. The four lots side and back to HOA lands; to east (the left side) is the HOA land belonging to the Toll Brother's Olney Estates development and to the back and west (right side) is the land belonging to Hollow Tree Farm HOA. PICTURES ARE REPRESENTATIVE ONLY AND SHOW OPTIONS AND CUSTOMIZATIONS NOT INCLUDED IN THE HAWTHORNE BASE PRICE.
Note: * Estimated costs does not include the costs associated with the joint construction and maintenance agreement for the road's extension and cul-de-sac.
Regulations, Easements and Assessments
(REA) Disclosure and Addendum